Carleton B. Varney, one of America's most celebrated interior designers, died on July 14. He was 85 years old.
"Mr. Color" of interior design, as Varney was affectionately known, created an indelible presence on the island of St. Croix with his design office, Carleton Varney retail space at The Mill and his sophisticated interpretation of the Caribbean style in his cheerful creations at Villa Madeleine. Varney has designed two lines of clothing: A Perfect Day in Paradise and Carleton Varney Cruzan Wear, attracting locals and tourists alike with its strikingly colorful designs. For more than five decades, Varney was the owner and president of Dorothy Draper & Company, Inc., the oldest established and operating interior design firm in the United States.
Varney grew up in Massachusetts and earned a bachelor's degree in Spanish and fine arts from Oberlin College in 1958, with studies at the University of Madrid. He earned a master's degree in education from New York University in 1960 and he held an honorary doctorate from West Virginia University. For several years he served as Dean of the Carleton Varney School of Art & Design at the University of Charleston in West Virginia.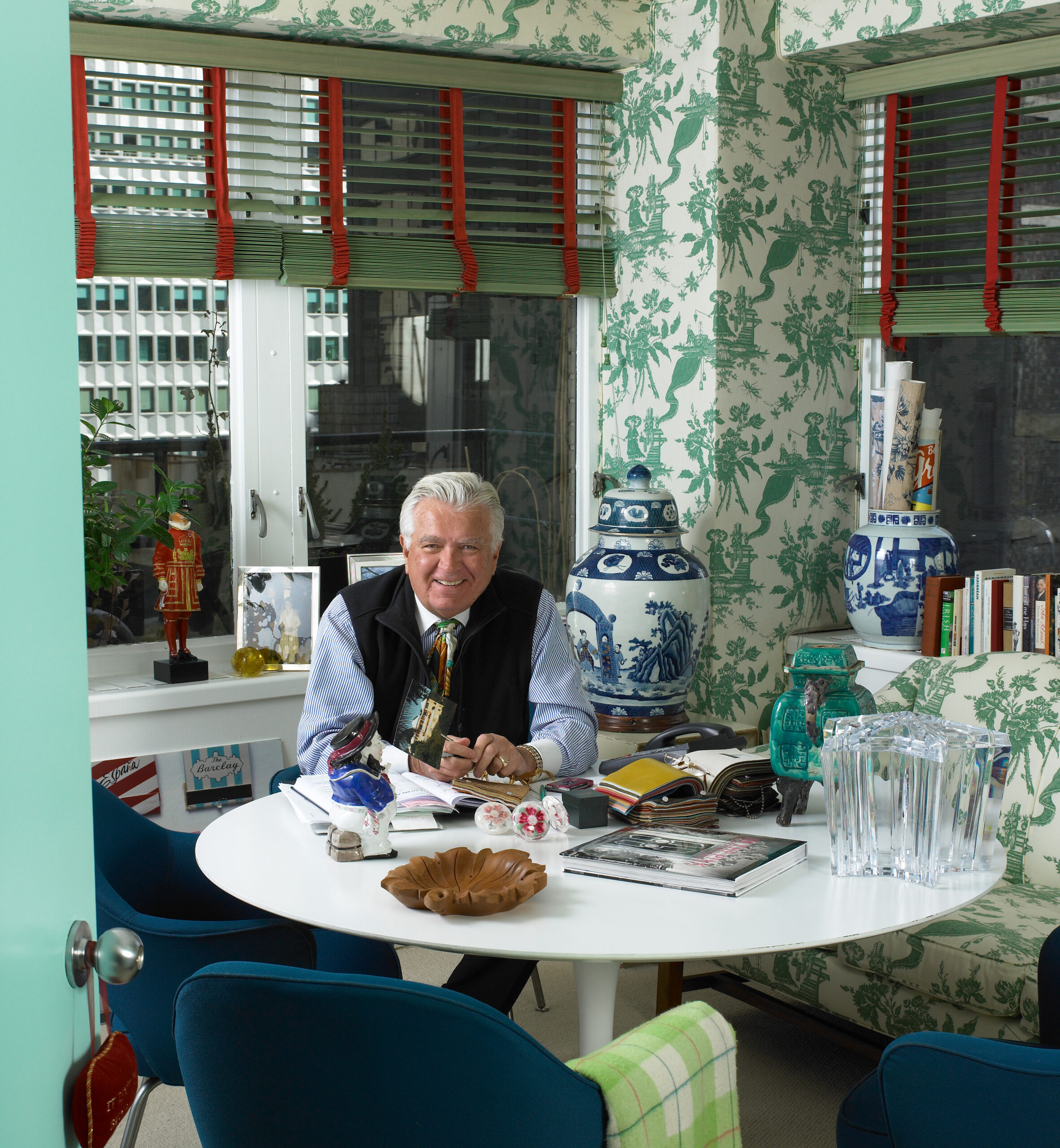 He joined Dorothy Draper & Company, Inc. in 1958 as a draftsman. He often traveled with Ms. Draper for site visits on projects such as The Greenbrier in White Sulfur Springs, West Virginia and the Barclay Hotel in Philadelphia, Pennsylvania.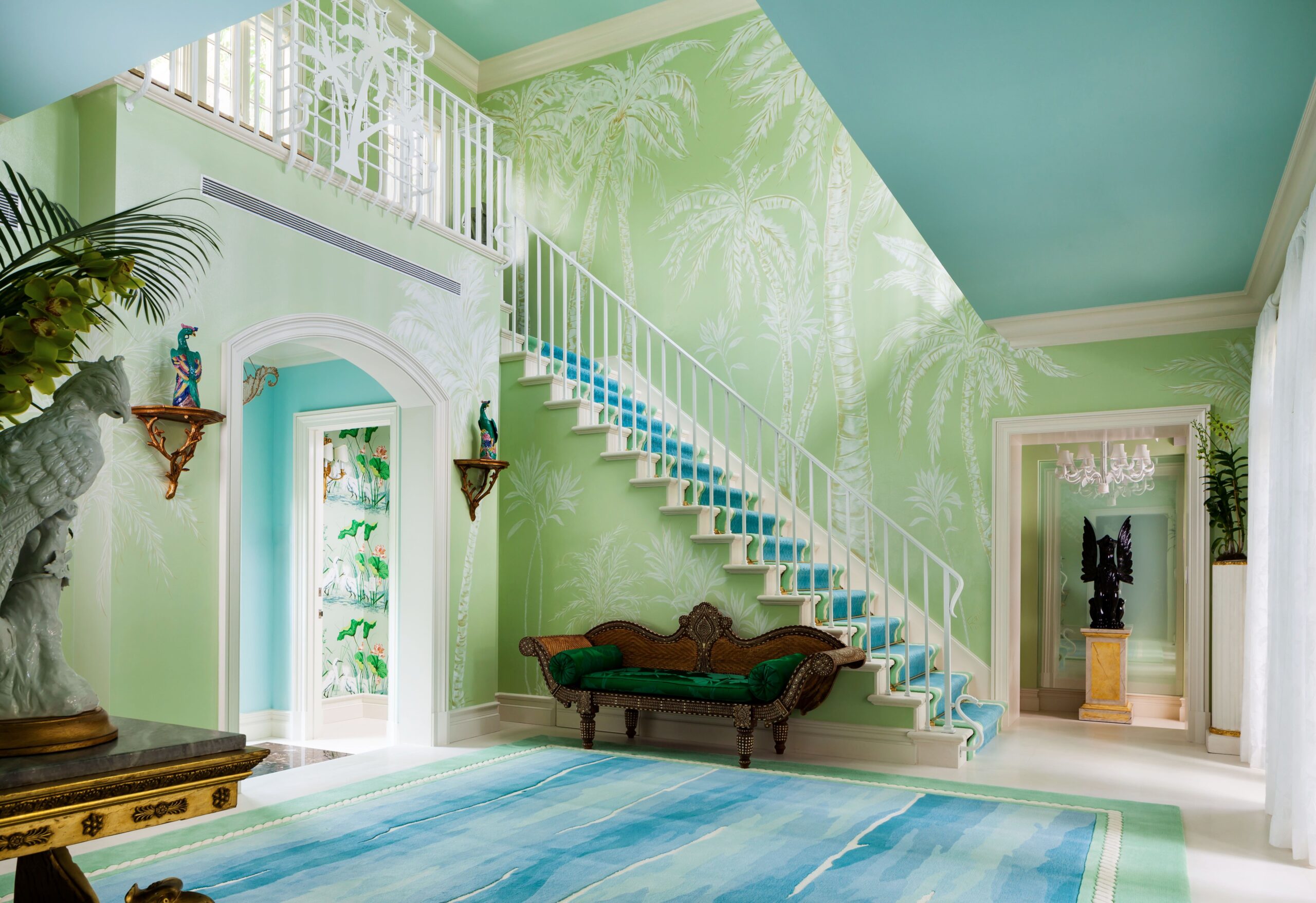 Varney was the creative force behind the company and continued Draper's design philosophy of using bright colors and rejecting anything dull and impractical. He was adventurous in his expansion of bright, vibrant colors and floral patterns. Varney became president in 1966 and purchased the company before Draper's death.
Varney's son, Sebastian Varney, director of Dorothy Draper & Company, Inc. and president of Carleton V Ltd. shared of his father, "He was always very proud of his family and really thought that was his greatest achievement. He was also someone who easily formed and maintained long-term friendships; he was approachable and kind to everyone. Our dad really cared about people and was always there for them when they asked for help. I always knew this long before he died, but sharing wonderful stories, as well as the responses I have received (since his death) have shown me how much he has impacted people's lives personally as much as he does as a designer.
"Like countless others, I am proud to call him a role model, an inspiration and a dear friend," said Rudy Saunders, interior designer of Dorothy Draper & Company, Inc. "Our team feels wonderfully lucky to "to have worked so closely with Mr. Varney. Anyone who has experienced his magic knows what a truly special person he was. No one can light up a room and fill it with color and panache like Mr. Varney. We will do our best to celebrate her legacy and to continue her colorful and iconic work at Dorothy Draper & Company.
In 1973, Varney and his wife Suzanne co-founded the textile house Carleton V Ltd. He was particularly known for his house collections, including Kindel Grand Rapids, Dr. Livingstone I Presume and Fine Paints of Europe, to name a few. He has created collections with Royal Copenhagen China, including International China and many others. He had design offices in New York, Palm Beach, St. Croix, London and The Greenbrier.
In a statement, the Justice family, owners of Greenbrier, said: "Carleton first came to The Greenbrier with Dorothy Draper & Company in 1960 and has been a valued member of The Greenbrier family for over 60 years. He has played a vital role in establishing and maintaining America's Resort's iconic look and has befriended hundreds of team members and guests over the years. Carleton inspired everyone he came in contact with in so many ways, and his legacy will live on within these historic walls and around the world for years to come. Carleton loved The Greenbrier, and we loved it too. He lived a life full of color and joy, and there's no better way to honor his memory than to do the same to us all. To say Carleton will be missed at the Greenbrier is an understatement.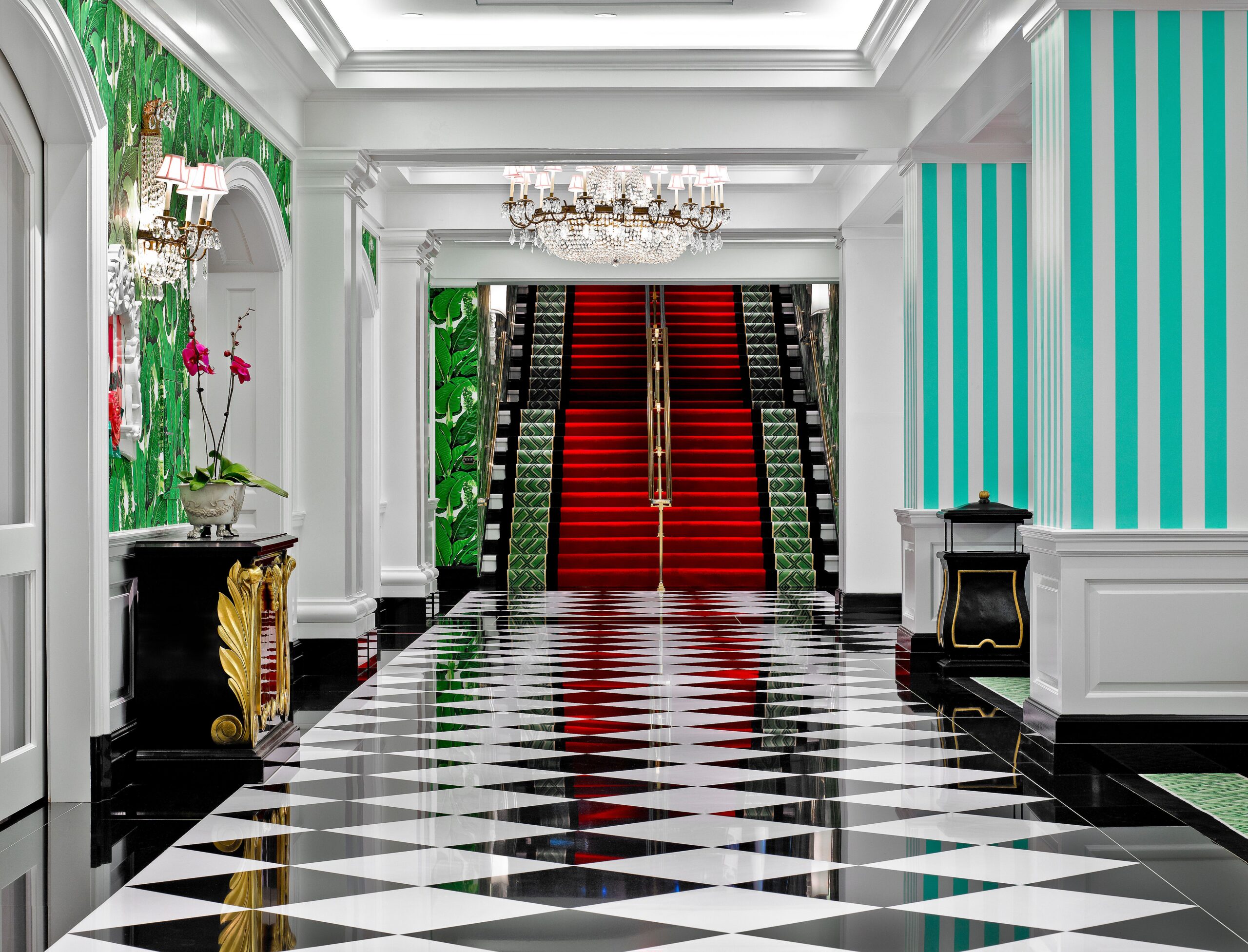 Varney has designed and decorated private homes, commercial venues, cruise ships and events in locations around the world. He decorated the Grand Hotel on Mackinac Island, Michigan, where each of the more than 397 rooms was individually designed, including seven rooms dedicated to the First Ladies of the United States. He was proud to have decorated the three iconic hotels in Palm Beach, Florida – The Breakers, The Brazilian Court and The Colony.
Varney's cheerful designs ran the gamut from Europe to New York to the Caribbean and on the water to Cunard's Queen Elizabeth II, and Antarctica – the world's discoverer and society's explorer. He has designed for multiple sporting events and uniforms for the Cleveland Browns.
His many notable private clients include royalty, dignitaries, celebrities, athletes, and more, from Joan Crawford to Ethel Merman, former Vice President Walter Mondale to Van Johnson, Judy Garland to Laurance Rockefeller and the Pahlavi Foundation.
Numerous architecture and design magazines, including Architectural Digest and Veranda, among others, have published his work. He was named one of Architectural Digest's Deans of Design in 2005. He decorated Architectural Digest's Green Room at the Oscars in 2008.
Beginning in 1980, Varney served as curator for the restoration and decoration of USS Sequoia; White House-style state lunches and dinners; served as a color consultant for the Carter Presidential Library in Atlanta; decorated the log home of President Jimmy Carter and his wife Rosalynn Carter in Ellijay, Georgia; designed the official residence of Vice President Dan Quayle and his wife; designed china, scarves and favors for Rosalynn Carter, Nancy Reagan, Laura Bush, Marilyn Quayle and West Virginia Governor Jim Justice and his wife.
Varney is the author of thirty-seven books on decorating, has written two novels, and has written the official biography of Dorothy Draper. He wrote a regular column published in the Palm Beach Daily News. He was design editor at Good Housekeeping for several years. He opened the Shannongrove Press publishing house in 2010.
He hosts one of the first daily television talk shows, Inside Design, devoted to the theme of decoration. It started in 1966 and aired on the Christian Broadcasting Network. Beginning in the early 2000s, Varney hosted Live Vividly on the Home Shopping Network and on-air programs with ValueVision and QVC.
Varney has lectured around the world, educating and inspiring design enthusiasts and designers. He has been a guest lecturer at universities and museums as well as art, antiques and design fairs. Additionally, Varney established the Dorothy Draper School of Decorating Weekend which was held annually at the Greenbrier and Grand Hotel.
Besides being an accomplished designer and author, Varney was also an artist. In 1972, he had an artistic vernissage, "Subjects for Now", at the Weintraub Gallery in New York. Varney continued to create art throughout his life.
Varney was an avid fundraiser for neurological diseases and disorders. For several years with Princess Yasmin Aga Khan, he co-chaired the Rita Hayworth Luncheon to benefit the Alzheimer's Association in Palm Beach. He served as design consultant for An Evening with Joe Namath to benefit the Joe Namath Neurological Research Center at Jupiter Medical Center in 2016.
Throughout his life, Varney maintained residences in New York; London; Millbrook, New York; Palm Beach, Florida; St. Croix, US Virgin Islands; and County Limerick, Ireland.
Varney was predeceased by his ex-wife Suzanne. He is survived by his sister Vivian Varney, three sons Nicholas Varney, Seamus Varney and Sebastian Varney, his stepdaughter Victoria Bratberg, his grandson Bowie Varney and numerous nieces and nephews.