TOULOUSE — Continued our deepening interview last month with Airbus leaders around the New Production Standard variant for the aircraft manufacturer's A350 twinjet, Runway Girl Network journalists were granted exclusive access to the Airbus Mockup Center, where the aircraft manufacturer's A350 cabin – and external galley mockups – showcase the new NPS seating area with ten-seater seating, galleys and exposed toilets. After spending about an hour with Airbus' passenger experience managers in mockups, without photos, there's a lot to consider.
There is good news from a kitchen and toilet perspective. The work Airbus has done to add extra work and storage space is excellent, and the flight attendants and catering designers – from the front to the back of the plane – should be pleased.
The option of a larger lavatory in front of Gate 1L is also good news for premium class passengers and, potentially, wheelchair users and passengers with reduced mobility. It could even allow Airbus to offer properly accessible toilets. And an extra four inches of cabin width is also a bonus for economy class and premium business class, although it's worth noting that no new seat options taking advantage of NPS width were featured.
But clearly the biggest appeal of – and main driver of – this NPS aircraft variant is how the re-sculpted sidewalls allow for a slightly less uncomfortable experience in the economy 3-4-3 ten-abreast configuration, which n was previously only used by low-cost carriers like French bee and Air Caraïbes.
At first glance, few people outside the industry will notice a big difference in the sidewalls. The frames are changed so much that only the most attentive experts would notice a difference apart from the optional electrically dimmable windows. (Those are fine: your author usually doesn't like the idea because flight attendants have a disappointing tendency to slam them to black when they want passengers to fall asleep and stop bothering them, but they become at least very dark and are easily swapped out if they fail.)
Overall, the cabin engineering is impressive and the extra four inches will be welcome in economy class, making the economy experience of the nine-abreast A350 even better.
But it's the 3-4-3 that's causing this, not a more comfortable 3-3-3 experience. Airbus has designed and managed this in a way that enhances the experience for low-cost airlines, although ten abreast on an A350 still can't be considered a product suitable for a full-service carrier at a price of full service.
In terms of seats, Airbus offers half a dozen budget options in the mock-up, including full products from the usual seat-maker suspects, and comfort levels varied between them in the way we expected: the most complete seats with advanced kinematics and shin space sculpting. were unsurprisingly much more comfortable than more basic products without these technical advantages.
In the cabin, and provided we were talking about 1-2 rows of each seat vendor's product with gaps – so the cabin inherently felt a bit odd – the rows of seats looked surprisingly normal, more so than expected.
We note, with some interest, that no rows of nine seats abreast were installed on the aircraft, so direct comparisons were not available – either to us or to the airline executives who look at the new seats.
Airbus has indeed succeeded in freeing up 17 inches of seat width between the armrests. Yes, the armrests are thin, but the aircraft manufacturer has clearly learned from the absurd proposals of the ridiculously narrow armrests on the A380 eleven abreast cabin proposed. These can't exactly be called generous, but they seem commensurate with a 2020s seat. That in itself is impressive.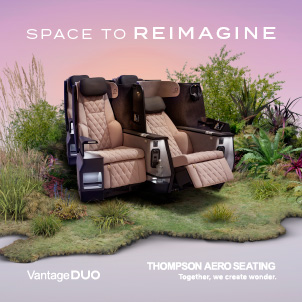 Aisles aren't absurdly narrow, even for wider passengers. But the cabin is very tight at the shoulders by the windows, especially where there is a side wall sticking out rather than the space for the window. Broader-shouldered passengers are likely to feel very cramped, especially at window seats, and even more so where their shoulders don't line up with an actual window.
Airlines might well consider taking the weight and complexity penalty of triples' window-side movable armrests – which, on the plus side, would come with fewer parts count – to allow for a small amount of extra comfort.
The biggest issue beyond sheer seat width is in the foot area, and a lot of it for people with bigger feet. With the window seat passenger significantly closer to the window, much of its foot space is taken up by the leg structure. We estimate that around a third of the seat's legroom is affected in this way. That's not quite the fullness that the A380's eleven-abreast seat was, but it's still problematic and will be unacceptable to some passengers.
At the request of airlines who do not want to have to work with two different sets of seat rail positions on the A350, Airbus has not modified them to allow one foot to be placed on either side of the triple's leg structure headquarters. Both RGN reporters' feet measure in at an EU 48 (UK 13, US 14), so on the high end, and we couldn't fit our feet between the side wall and the seat leg at all. An Airbus executive suggested – and in fact demonstrated – that his smaller feet did indeed fit, wiggle sideways. She also suggested that in testing some shorter passengers liked being able to rest their foot on the angled riser leg structure. It sounded very optimistic.
Overall, the ten-abreast option isn't exactly good news for passengers, as adding an extra person in each row effectively makes it tighter. But seat manufacturers in particular have made progress in the modern cabin since, for example, the introduction of ten-seater seats on the Boeing 777 or even nine-seater seats on the Boeing 787. In terms of overall comfort, the feel was similar to a first-generation 3-4-3 Boeing 777 from 20 to 30 years ago.
While the seats are noticeably narrower and less comfortable at ten abreast than nine abreast, Airbus has done a decent job of minimizing compromise while producing a narrow but manageable cabin and securing an extra seat in each row. An 11% seat count bonus is not to be sniffed at, even if the environmental arguments Airbus is trying to make for the move seem highly questionable afterwards justifications bordering on greenwashing.
The key contextual question is what Boeing managed to do with the enlarged cabin of the much-delayed 777X. The American aircraft manufacturer has 24 cm more width on the 777 than on the A350, which is equivalent to just under an inch per passenger in ten abreast. If Boeing can elevate the 3-4-3 experience from the 777-300ER generation, the difference between it and the NPS A350 starts to widen.
RGN understands that the first aircraft to be delivered with the NPS specification is going to be or very recently was to Spanish carrier Iberia, in the economy nine-abreast configuration. Iberia did not immediately respond to requests for information about this cabin or its layout.
Additional reports by Fintan Horan-Stear
Related Articles:
Featured image credited to Airbus